Update on unheated Mozambique rubies
by Dr. M.S. Krzemnicki, first published in Facette 26 (May 2020)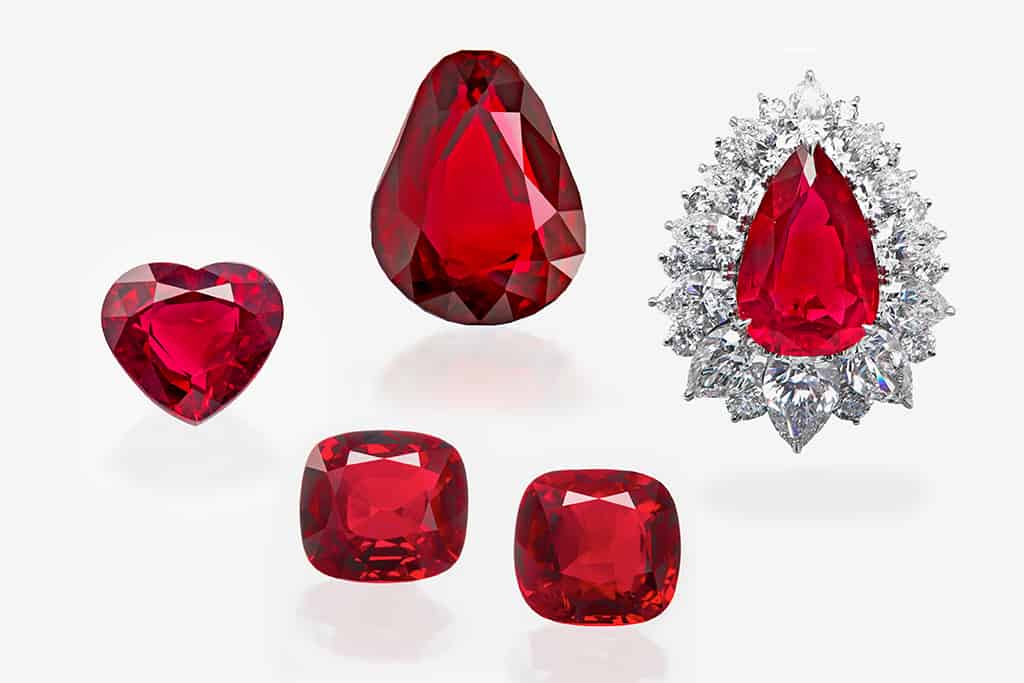 In the past decade, rubies from Montepuez in the Cabo Delgado province of northeast Mozambique have been the most significant source of gem-quality rubies in the market.
These include iconic stones such as the Rhino ruby (22.04 ct), the Scarlet Drop (15.95 ct), the the Heart of Mozambique (8.08 ct), and the Eyes of the Dragon (matching pair of 11.3 ct and 10.7 ct), to name only a few (Figure 1). The best of this material is characterized by a very homogeneous and beautifully saturated red colour and an exceptional purity, very difficult to be matched by rubies from other sources.
The presence of iron and traces of titanium in these rubies results in some cases in subtle slightly bluish zones, thus slightly shifting the colour of these rubies to purplish red, at least in part of their volume (Figure 2). This explains, in our opinion, why quite a substantial number of fine rubies from Mozambique have been treated by a so-called low-temperature heating (at about 1000 °C) in recent years, aiming to remove this slight bluish hue.
Originally a challenge for labs, the detection of such low-temperature rubies has become more straightforward in recent months, based also on research conducted at SSEF and detailed in SSEF press release published 12th September 2018 (see also Facette 2019, page 9).
As a positive side effect of research into this issue and the gearing-up of SSEF and other labs to safely detect such low-temperature heated
rubies, we have seen in the past few months a growing number of Mozambique rubies with very subtle blue hues in our laboratory. This indicates that such stones are currently rather kept unheated, even with what was considered a few years ago a slight blemish in colour. This is done to maintain and safeguard the unheated status of the ruby and to acknowledge this slight colour shift in the stone as part of its individuality and beauty (Figure 2).
Want to learn more about ruby origins and treatments?
5-day ATC Coloured Gemstone course on origins and treatments (link)
Free online course on ruby (link)
---
Want to learn more about rubies?