SSEF in its mission to carry out research on diamonds, gemstones and pearls also seeks to develop instruments that can serve the trade.
More interested by our advanced research instruments?
Quick navigation to:
We sell a number of gemmological tools and instruments. For details and prices, see below pdf.
We also have a number of interesting books and tutorials on sale. Many of these are works of reference for gemmologists.
The SSEF diamond spotter was initially developed as a reaction to the threat of HPHT treated diamonds (ie. GE POL™, Monarch™, Bellataire™) on the market. Since its introduction in 2000, hundreds of SSEF diamond spotters have been sold to members of the trade all over the world. We have received much positive feedback about this simple and rapid way of testing diamonds, confirming the importance that this method now has for the trade.
Important note:
Please note that the SSEF diamond spotter™ has to be used in combination with the SSEF diamond illuminator™, a powerful shortwave ultraviolet light source (SWUV).
The SSEF diamond spotter allows for an easy separation into two groups of diamonds:
Group A: type IaA, IaAB and Ib. Such colourless diamonds have not been decolorised by a HPHT treatment.
Group B: type IIa, IIb and rare IaB. Such diamonds may have been treated by a HPHT treatment.
The application of this electrical conductivity tester allows an easy separation of boron containing diamonds and diamonds with no semi conductive capacity
Type IIb diamonds contain traces of boron, and are semiconductors
The SSEF Blue Diamond Tester™ does not indicate whether HPHT treatment has been performed on a blue diamond
ASDI stands for Automated Spectral Diamond Inspection. It is a device which can analyse and authenticate very large quantities of colourless melee diamonds at a low cost. It was developed by SSEF with collaborating partners and is currently marketed by SATT Gems SA. ASDI can:
Colourless round melee diamond authentication
Separating diamond imitations
Separating HPHT treated diamonds
Separating synthetics (CVD & HPHT)
Customizable size-sorting (optional)
The machine uncovers colourless synthetic diamonds, both HPHT and CVD grown, as well as colourless HPHT-treated diamonds.
In 2007, the Swiss Gemmological Institute SSEF and the electronic laboratory of the University of Basel joined their expertise and launched the ASDI project. After five years of research & development, OPTEC Industries brought their know-how in automation and size-sorting.
Finally in 2013, the first ASDI machine was operational at the Swiss Gemmological Institute SSEF and since then, has screened more than a million of colourless melees hereby protecting the Swiss watch and jewellery industry. As a result, four ASDI units are now operating at two major Swiss diamantaires and two major Swiss watch and jewellery groups.
Diamond positioning
An operator pours a large batch – several thousand – of colourless melees into a vibrating bowl that delivers each single stone onto a rotating glass plate. A series of specially designed arms positions each stone table down and separates them. A digital camera pre-checks each stone for their size, position and clearance before analytical inspection begins.
Diamond inspection
A Raman probe identifies all possible diamond imitations that are automatically 'rejected'. Then, a highly sensitive spectrometer checks the short wave ultraviolet (SWUV) transparency of each diamond. If its transparency is significantly high, the stone would be automatically rejected as a potential HPHT treated diamond or a potential synthetic diamond (HPHT or CVD grown).
Diamond size sorting (optional)
A series of digital cameras record up to fifteen different measurements for each single authenticated diamond (precision for diameter measurements: ± 0,005mm). An automatic sorting system distributes the diamonds into a maximum of four different bins according to their size. This function is conveniently customizable and has no impact on the ASDI sorting speed.
For more information on ASDI, pricing and contact details please visit SATT Gems SA.
ASDI 500
The ASDI-500 is able to detect and extract synthetics and simulants as small as half a millimetre in diameter, at the astounding speed of 850 stones per hour.
In 2020, to fill the unexplored gap between 0.50 and 0.85 mm, SSEF validated a robust analytical solution based on several thousand manual tests on diamonds as small as 0.45 mm. Later, the Swiss Innovation Agency partly financed the computer processing of ASDI-500 analytical data. In November 2022, the ASDI-500 was unveiled at the international GemGenève show.
Equipment
The ASDI-500 instrument is now being brought to the market to test melee diamonds with diameters down to 0.50 mm or 500 microns, hence its name ASDI-500. First automatised authentication solution for melee smaller than 0.85 mm.
Principle
A batch of stones submitted to the ASDI-500 shall be made of colourless (D to J) round polished (full cut, 8/8, 16/16) stones. The maximum diameter divergence in one batch is approximately 0.05 mm (e.g. 0.60 mm to 0.65 mm). ASDI-500 can automatically inspect batches of melee as small as 0.50 mm up to batches of melee as large 3.80 mm.
Feeding a batch of melee for inspection
An operator pours a large batch of colourless melees – several thousand – into a vibrating hopper. On the touch screen, the operator enters customisable references (e.g. batch reference, total weight, etc.) and just clicks on "START".
Diamond inspection
Prior to starting inspection, the ASDI-500 runs a fast – less than one minute – automated internal calibration on a diamond of reference included inside the device. This calibration is usually performed once a day and can be launched on demand at any time by the operator. As soon as the calibration is performed the automated inspection starts.
Result of the inspection
The ASDI-500 counts accurately and places au-tomatically all tested stones in one of the following bins:
1) "Natural Diamond",
2)"Refer",
3) "Simulant",
4) "Not analysed"
Result ouput
At the end of the process, the operator can export an inspection result file.
For more information on ASDI-500, pricing and contact details please visit UNIMEC SA.
PearlScan™ is a newly introduced system developed by SSEF that permits to count and measure the dimensions of large quantities of pearls on strands in an efficient manner. Consisting of an A4 scanner, computer and proprietary software this tool offers the pearl industry a new way of documenting pearl necklaces. It includes:
Counting of Pearls
Detection of Different Strands
Pearl Diameter Measurement
Pearl Roundness Factor
Detailed Scan Report
Portable UV-Vis Spectrophotometer
Developed in collaboration with scientists from the University of Basel, this portable spectrometer is a powerful gemmological tool. It can be used for various in applications for coloured gemstones, but this model is not useful for diamonds. Conceived specifically to resolve gemmological questions, this is a cost-effective solution that combines absorption, transmission and luminescence spectrometry. It is simple to use and highly mobile offering a USB port connection to any laptop computer.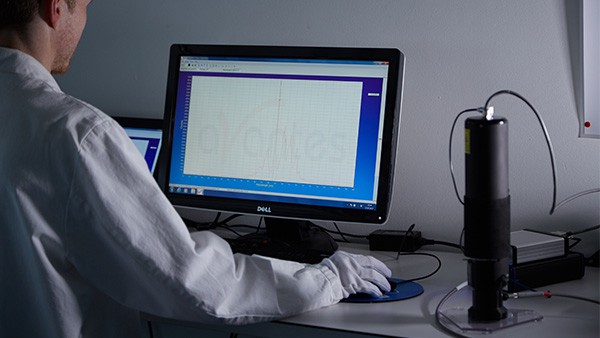 How can the SSEF portable Spectro be used for gemstone analysis?
Detection of copper in blue tourmaline (Paraiba-type or not?)
Distinguish Fe-bearing rubies from Fe-poor rubies (e.g. from Burma)
Distinguish Fe-bearing emeralds (e.g. Brazil and Zambia) from Fe-poor emeralds (e.g. from Colombia)
Detection of green dye in jadeite
Detection of chromium in green jadeite
Indication of origin of sapphires
Diamond spectrum (e.g. Cape Ia diamonds)
In luminescence spectrometry mode:
Distinguish natural and flux synthetic red spinel
Analyze diamond luminescence
Analyze fluorescent fissure fillings, e.g. polymer treated jadeite (B-Jade)
Register chromium in sapphires below XRF detection limit and a number of other applications
In our efforts to promote gemmological education we have a number of interesting books and tutorials on sale. Many of these are works of reference for gemmologists.
To order a book:
Choose the books you would like from the list in the pdf above
Choose which shipping option you prefer (economy, priority)
Contact SSEF administration by email with these details and we will send you a quotation (price) for your order and an invoice
Once we have received your payment we will ship the books